That seems right–but remember, we are almost certainly not "normal" users

Wouldn't that make it more likely that the ~2% of odd goals is an over-representation and the "normal" users will have fewer? Making @drtall's point even more applicable.
It should be possible for @dreev or @bee to run a query on the database and find how many goals have only ever had integer or time based datapoints entered and calculate the percentage.
Could be interesting! Although I bet it is just a lower bound since entering non-integer values into integery goals is a classic weaseling move.
Also, thanks disqus:


Sorry everybody.

Very possible. I suspect the non-integeryness is a
conceptual/implementation artifact from starting with weight loss.
24 goals = 2 weight/fat goals (where I need one decimal instead of 2), 5 time-based (RescueTime, where I need hours/minutes instead of decimals), one with decimals (running KMs) and 16 others which are integery ones.
+1.1 to having goals where you're not allowed to enter non-integer values. I deliberately allow myself to do this for my blog goal and it keeps the pressure up because I'm just putting in 0.1 until I launch the post. But I've found myself slipping into doing it for other goals where I'd rather just be forced to put in a 1 or nothing.
I personally don't have a burning need for integery goals, but here are my goal stats.
Out of 21 active goals (I'm excluding 2 test/debug goals) I have:
 2 timey goals
18 integery goals
 1 non-timey, non-integery goal

The non-timey, non-integery goal has to do with weight regulation.
[Edit: I actually have 2 test goals.]
I only have 7 goals right now: 3 timey-wimey, 4 integery. I particularly admire beeminder's insistence that I receive 0.14 injections tomorrow!
(In general, I find beeminder totally inadequate to capture the "I must do this once a week, and I cannot do it later or earlier" use case, but that's only partly due to integery nonsense; I still find the goal useful as a record of whether I've had my shot, even if I have to use other things as commitment devices.)
Since I'm uninterested in tracking weight, I can't think of anything I've wanted to track that wasn't either integery or timey. I am accustomed to the decimal wonkiness by now and just mentally round up, but it's definitely not my ideal default.
Something just changed with regard to timey-wimey goals I think?
My goals which have time data entered via Tasker -> Android app are showing intelligent formatting: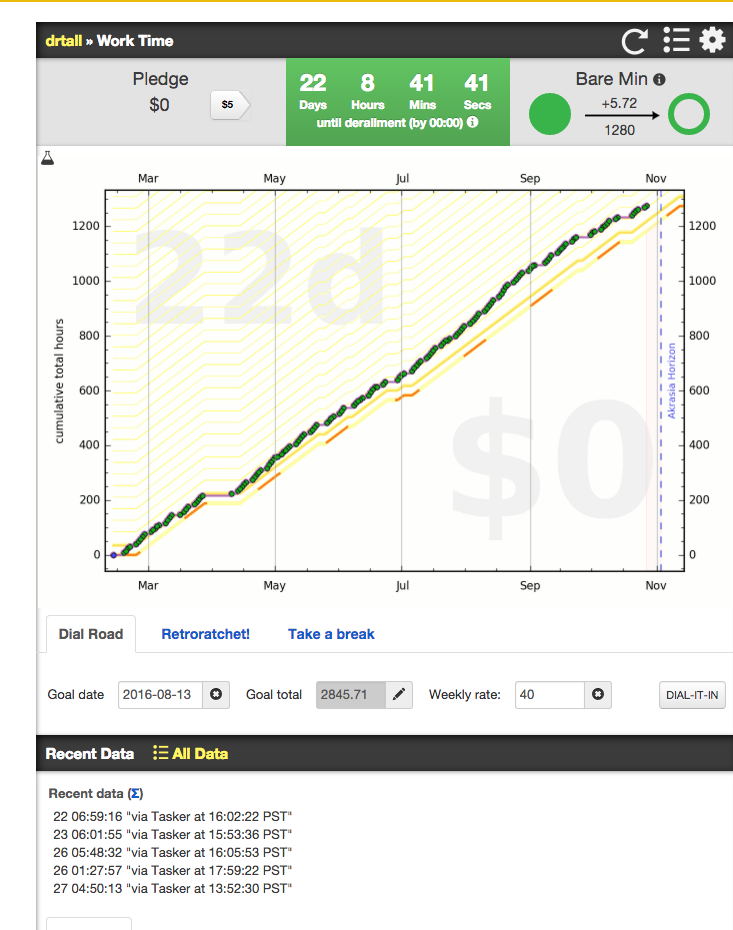 Whereas values entered via the Android app timer manually are not: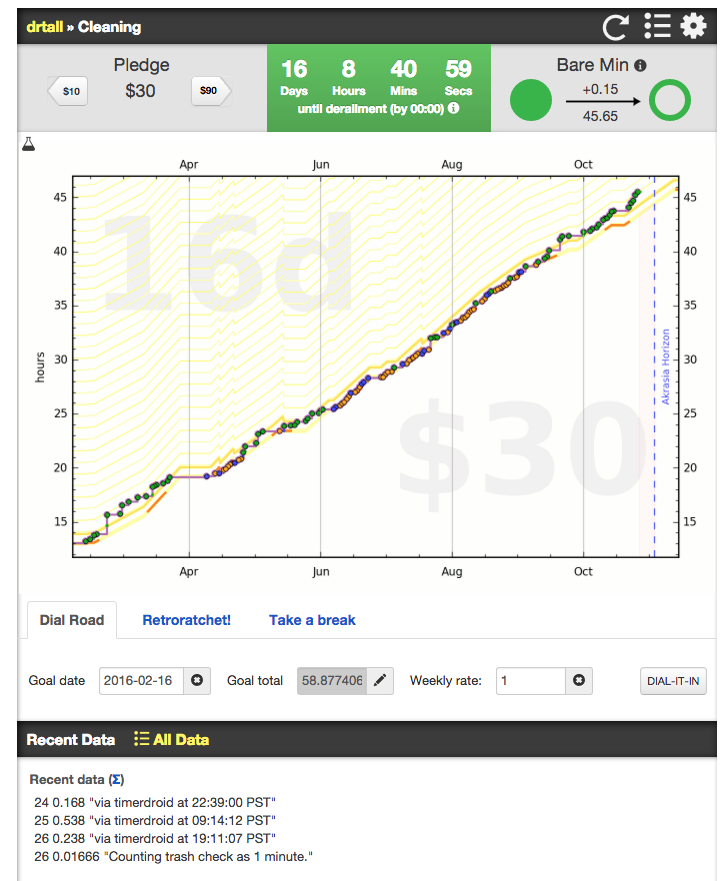 (that last data point is via IFTTT but the rest are timerdroid)
I think the intelligent time rendering was a UVI from a few weeks
ago–unless there's something new.
It only shows the datapoints as timey if the goal units (gunits) are set to "hours" – which they're not for your cleaning goal.
B
I want to +1 here as a non-power beeminder user. I have 5 goals, and 4.5/5 are integer-y (I sometimes enter non-integer datapoints on my blogging goal for writing short posts away from my blog). I found this thread because I just created a goal to send postcards to friends while travelling and it told me I need to send "0.5" postcards tomorrow, which annoyed me.
Experimenting with more new goals, and found my way here. +1 for this. All the goals I am currently toying with beeminding are integery, and so it would be good to see things like "you need to do 1 by x" so I don't have to use extra brain power to translate the derailing warnings into actual actions.
(of course I understand that needing to do "zero point whatever" of an integery goal is functionally identical to doing it once, but the extra brain cycles are a surprisingly strong deterrent to understanding!)
Edit: words
Hugely valuable to get pushed on things like this. Thanks everyone! Personally I don't feel like it's a big deal to apply the ceiling function in my head so I haven't thought of this as so critical but I clearly need to overcome my typical-mind fallacy and priority++ this.

Excellent! Thinking on it a little more, I realise that there's an intuitive leap to be made that you are required to apply a ceiling function in the first place.
In case it's at all helpful, here's more detail on my thought process than you probably want:
I suspect the initial confusion is mostly rooted in unfamiliarity with the UI and how beeminder displays everything - as a newbee I've had to take a fair bit of time to understand the many numbers and graph-bits, and to figure out what's important and what isn't right now.
Bearing this unfamiliarity in mind, it's easy to feel a distinct lack of threat from numbers like "0.067 due by Jan 28", which one of my goals is currently displaying. It's a small number which fades into the background of 'lots of new information'.
I know it means I have to do 1 by that day, as there's no other option, but 0.067 has little power to motivate me by itself - particularly since it doesn't have any real-world analogue, so I have to remember to apply the ceiling function.
And the first couple of times I looked at it I misunderstood what it was trying to tell me and thought "Well, if I have to do 0.067 by then, when do I have to have actually submitted the first one?", and nearly came to the forum looking for where the 'real' deadline was displayed.
Now I've thought it all through I won't have any trouble realising that I'm due on that date, no matter what the number is, but that just means the unintuitiveness of that number not corresponding to anything in the real world will eventually become as invisible for me as it is now for you

Hope that helps get insight into the beginner's mind.
I saw that a little earlier, @drtall. At this rate, I'm going to have to seriously consider beeminding "implement @drtall's awesome beeminder hacks" ;p
That part convinced me that this is way more important than I realized. Thank you! So valuable to hear newbee perspectives like this! (Btw, this is a more than sticker-worthy contribution – tell us your snail mail address (support@beeminder.com) and we'll send you some!)