tl;dr: Anyone have one of those? Tried both? How are they?
I sit a lot throughout the day because I spend almost all my time in front of the computer.
And it's a problem:
I fall asleep when sitting down and viewing lecture recordings (Mind you, I also fall asleep when I'm physically sitting in the lecture)
Cold Fingers, likely because of bad blood circulation
all the other many many reasons sitting too much is bad
I would like to exercise more because:
Cardio exercise is one of the few things that are likely to help with chronic tension headaches
It would allow me to eat more
I want to build up more muscles to support my spine
Exercise supposedly reduces stress and although I can't really say that I feel particularly stressed, that doesn't mean that I'm not. And stress is another cause for chronic tension headaches.
However, I find that exercise is very boring and dull. Except for things like Dance Dance Revolution and Beat Saber. But I don't have a VR headset so Beat Saber is out of the question. And Dance Dance Revolution is not super compatible with neighbours.
So, I lately discovered people put treadmills (small ones purely for walking) underneath standing desks or put bicycle like things underneath their sitting desks to be more active while they work at their computer.
And I think that would solve a lot of things for me: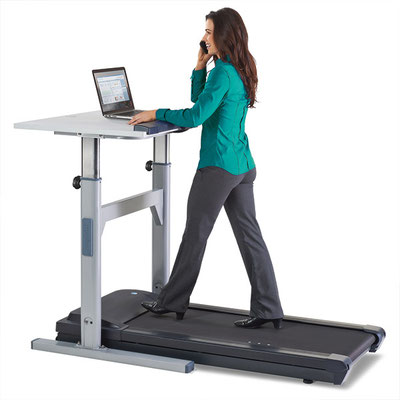 I'm not planning on shelling out $2000 for a LifeSpan treadmill desk, I'm thinking of DYIing this which should leave me at 800€ to 900€, maybe only 400€.
The alternative would be a deskcycle knockoff for about 200€ and that's it:
I think though that going the bike route I'd rather have something like this:
On there you sit more like on a traditional bicycle. But this bumps the price up to over 1100€ again. And I already got a desk (though not height adjustable)
Unfortunately the next store where I could actually try this stuff is in Berlin which means 10hrs of traveling. And I'd rather avoid that.
Is there perhaps someone here who got experience with this and would like to share? I'm not worried that I wouldn't use the device – I know I'm gonna beemind it and then it won't be a problem.